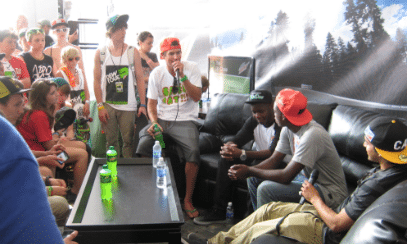 Co-Winner: Fuse
Three campaigns highlight exactly how well Fuse excels at media relations: The Pepsi "MAX It Now Challenge," the 2012 Dew Tour and The Ultimate Fighting Championship's (UFC) Octagon Nation Tour.
The Pepsi "MAX It Now Challenge" was a series of 24 quick-fire social media challenges aimed to engage with and reward die-hard NASCAR fans who rooted for the Pepsi MAX brand and its driver, Jeff Gordon. Fuse created a multi-pronged approach that included everything from reaching out to bloggers with exclusive content surrounding the program to dispatching food trucks across Daytona Beach, Fla., to hand out free food and branded premiums to race fans in town for a Coca-Cola event. The former tactic resulted in 133,844 impressions among Pepsi MAX's target audience and the latter grabbed more than 60 million impressions in local and national media outlets.
Mountain Dew, a longtime client, had a new vision for the Dew Tour, the brand's annual sponsored action sports event. In order to maintain the Dew Tour's role as the premier event in action sports, premium fan, media and athlete experiences needed to be delivered in fewer stops. Fuse developed and implemented a unique media event at each stop designed to provide local, mainstream and endemic media with exclusive content and access to some of the top athletes in the action sports sphere. PR efforts surrounding the Dew Tour earned over 100 million media impressions, with an additional 9.7 million impressions garnered through social media.
The UFC's Octagon Nation Tour was built on the goal of reaching existing fans while introducing the sport to new ones. In its eight-month run, the tour made 24 stops across the country, showcasing the UFC experience to a mixed audience of new fans, hardcore fans and everyone in between. Fuse accomplished its goal of 1 million earned media impressions per stop with a strategy that combined block and tackle tactics with highlighting a "hometown hero" angle in each city. Locally based fighters signed autographs for fans, attracting numerous local broadcast affiliates to each event. Fuse also pitched AP reporter Pat Graham the story of the tour's goal, resulting in an article that earned nearly 20 million impressions from national media pickup in USA Today, The Washington Examiner and Metro News, among others.
Co-Winner: Lippe Taylor
Lippe Taylor had a huge client, online home products retailer Wayfair.com. The problem was, not enough people knew Wayfair.com existed. Fortunately, the agency excels at media relations.
Lippe Taylor immediately set out to create consumer brand awareness for Wayfair.com and launch the site under a national media spotlight. Employing tactics like driving a steady stream of product placements in lifestyle media and elevating the visibility of Wayfair.com key executives as industry thought leaders, Lippe Taylor began seeing positive results.
One key media placement was the "Dream Home Giveaway" on The Ellen DeGeneres Show. The show's biggest giveaway ever placed the Wayfair.com brand in front of more than 3.5 million viewers, dirving more than a 50% increase to Wayfair.com and more than 145,000 views of the spot on EllenTV.com and YouTube. Other media placements included a The New York Times "Corner Office" segment about Wayfair.com's CEO, Niraj Shah, and six Today show segments in five months. In total, broadcast coverage resulted in more than 30 million impressions and product placement in publications garnered more than 62 million impressions.
Honorable mentions:
Brandware Public Relations
Formula PR
Frank PR
Lewis PR
Murphy O'Brien Public Relations
Porter Novelli
Rasky Baerlein Strategic Communications
Singer Associates Public Affairs/PR