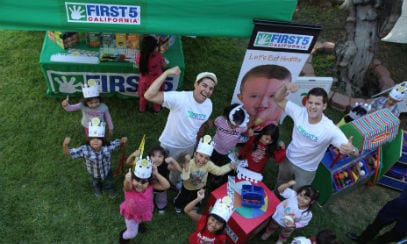 Winner: Fraser Communications
The mantra at Fraser Communications is "doing well by doing good." For the past 14 years the PR agency has worked on advocacy campaigns in multiple areas, ranging from early literacy to STD prevention to safety and emergency preparedness. Fraser's work on behalf of First 5 California—which supports children during their first five years so they're healthy and better prepared for school—helps to illustrate the agency's approach to advocacy PR.
Using an ordinary Ford Box Truck, Fraser developed what became the Hands-On Health Express—a traveling interactive health exhibit that engaged kids in educational activities while connecting parents to free resources and local support. Throughout the eight-month tour, roughly 67,000 people at 117 events throughout the Golden State participated in the exhibit's activities. Fraser helped to distribute more than 52,000 pieces of collateral materials, with post-campaign research showing that 25% of the total demographic in California were aware of the Hands-On Health Express. What's more, the effort has led other organizations to build their own exhibits to advocate healthy childhood development.
Honorable Mention: