Beth Courtier, Head of Charity Programmes, BT plc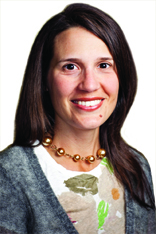 From the beginning of her career, Beth Courtier has relied strongly on all the basic tenets of effective PR: corporate communications, stakeholder engagement, reputation management and measurement. She has leveraged all of these components to deliver the goods, so to speak, for BT's charity programs, setting a benchmark internally and externally for others to follow.
Getting Connected
An initiative that epitomized Courtier's razor-sharp skills was BT Community Connections, an awards program that enables community and charitable organizations to go online and maximize their use of information and community technology. Groups can apply for a laptop and a year's free broadband connection. Since the program's launch in 2000, more than 6,000 awards have been presented to a diverse range of groups.
Volunteers of Scotland
Another example of her innovative thinking is the ChildLine volunteering program in Glasgow, Scotland. After securing management buy-in, Courtier recruited BT employees to work on a pro bono basis for a set time each week during their workday. So far the program has resulted in a low attrition rate among the BT volunteers as well as increased job satisfaction for them.
Image Guardian
When dealing with the press regarding BT's charity programs, Courtier takes a proactive stance, working hard to negate any negative coverage that may ensue. Her efforts have paid off: Since she has taken over as BT's charity head, negative press coverage has dropped by 37%. â– 
Honorable Mention
Tricia Link, Vice President of Communications and Community Relations, Mission FCU
A community relations star in the San Diego market, Tricia Link has successfully forged innovative cause marketing partnerships for Mission Federal Credit Union, marking a first for the organization. Among the highlights are the inaugural Mission Fed Padres Community Home Run Challenge outreach campaign, and the Mission Fed "I'm Thankful for My Teacher" national and international student postcard/teacher recognition campaign.