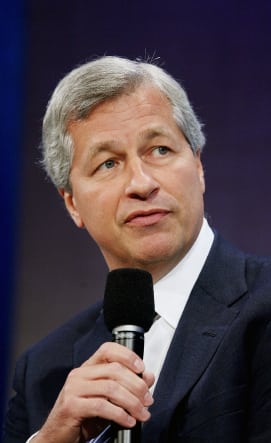 Jamie Dimon
On May 10, JPMorgan Chase CEO Jamie Dimon disclosed a $2 billion trading loss by the bank. At the bank's May 15 annual shareholders meeting in Tampa, Fla., Dimon's $23 million pay package from last year was endorsed, and a vote to strip him of the chairman's title garnered just 40% support.
So the CEO, who told reporters after the meeting that "the buck always stops with me," came out of the meeting with nary a scratch—although some shareholders did stand up and voice their displeasure with the trading loss. Meanwhile, Ina Drew, JPMorgan's chief investment officer and one of the highest-ranking women on Wall Street, resigned her post on May 14. Drew oversaw the trading group responsible for the $2 billion loss.
That loss and today's pay package approval drew plenty of online comments from the public—some defending Dimon but many protesting his compensation. "Dimond is a smooth operator and has the board in his hip pocket. $23 million package, wow. Only in America," said one commenter on CNN. "Dimon needs to either resign from his CEO post or step down from the NY Fed. Where's the DOJ? Is Eric Holder still working?" asked another.
Holder is still at his job, but Dimon did get somewhat of a vote of confidence from Holder's boss, President Obama, on the May 15 broadcast of The View. "JPMorgan is one of the best-managed banks there is," the president said. "Jamie Dimon, the head of it, is one of the smartest bankers we got, and they still lost $2 billion and counting."
JPMorgan's relatively quiet annual meeting contrasted with Morgan Stanley's meeting, which was held May 15 in Purchase, N.Y. About two-dozen protesters—all of whom had bought Morgan Stanley stock to get into the meeting—turned what is usually a short Q&A session with CEO James Gorman into an hourlong diatribe against the banking industry. It was reported that Gorman kept his cool and let everyone speak.
Perhaps there's an investor relations lesson to be learned here: If you're under fire, it might be better to hold an annual meeting in a nondescript office park in Tampa rather than a location close in proximity to New York City.

Follow Scott Van Camp: @svancamp01