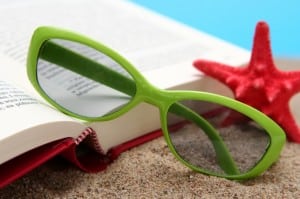 Memorial Day weekend is upon us, which means summer, for all practical purposes, is here. Thoughts turn to hammocks, blankets on beaches, stashed-away electronic devices, cool drinks and pleasurable books. In case you were wondering what the best tonic is for Internet-induced fractured attention spans and stress, it's not the beverage tonic with a splash of gin and a wedge of lime. It's a book, preferably the non-electronic kind.
We asked the PR News community what's on its summer reading list. Most of the books they suggest relate to the workplace, achievement and success, which tells us that everybody is in need of a real vacation. What books would you add to this list?
"The Agent: My 40-Year Career Making Deals and Changing the Game," by Leigh Steinberg and Michael Arkush
"The Art of Perception: Memoirs of a Life in PR," by Robert Leaf
"Beautiful Ruins," by Jess Walter
"Behind the Beautiful Forevers: Life, Death, and Hope in a Mumbai Undercity," by Katherine Boo
"Bittersweet," by Miranda Beverly-Whittemore
"Cloud Atlas," by David Mitchell
"Creativity, Inc.: Overcoming the Unseen Forces That Stand in the Way of True Inspiration," by Ed Catmull and Amy Wallace
"The Defining Decade: Why Your Twenties Matter—and How to Make the Most of Them Now," by Meg Jay
"#GIRLBOSS," by Sophia Amoruso
"The Goldfinch," by Donna Tartt
"The Happiness Advantage: The Seven Principles of Positive Psychology That Fuel Success and Performance at Work," by Shawn Achor
"Lean In: Women, Work, and the Will to Lead," by Sheryl Sandberg
"Liespotting: Proven Techniques to Detect Deception," by Pamela Meyer
"My Bright Abyss: Meditation of a Modern Believer," by Christian Wiman
"Outliers: The Story of Success," by Malcolm Gladwell
"Thrive: The Third Metric to Redefining Success and Creating a Life of Well-Being, Wisdom, and Wonder," by Arianna Huffington
"The Tipping Point: How Little Things Can Make a Big Difference," by Malcolm Gladwell
For those keeping score, "The Happiness Advantage" and "Thrive" are tied for the lead in most words in a title (16). These authors know a thing or two about packing titles with as many search terms as possible.
Follow Steve Goldstein: @SGoldsteinAI