Director, Media Relations, Time Warner Cable, West Region Age: 27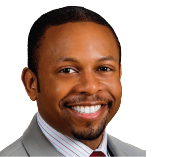 With a skill set spanning community involvement, crisis control and promotional campaigns, Darryl Ryan has a knack for bringing out the best in the worst situations. Ryan expertly executed a crisis strategy when Viacom threatened to pull MTV's networks from Time Warner's programming lineup. He has also helped to positively portray the company during difficult economic times with a variety of compelling public affairs campaigns. When Ryan, based in El Segundo, Calif., is not dealing with reporters or putting out fires, he enjoys teaching the craft. He's in his third year as an adjunct professor of journalism and public relations at the Annenberg School at USC.
Instant Gratification
"Unlike most other jobs that do not yield results until a profit/loss report is generated, public relations and media relations practitioners see the results of their efforts during and at the conclusion of proactive and reactive campaigns," he says.
A Campaign to Love
"My most compelling PR effort that I've launched thus far has been the Time Warner Cable '1 Cent Valentine Movie' campaign. As a result of this campaign (which gave subscribers an opportunity to purchase video on demand movies for a penny during the Valentine's Day weekend), Time Warner Cable in Southern California was able to reposition itself in the L.A. media market as a power player able to generate meaningful and substantive news coverage in mediums aside from industry trades."
Creating a World of Good
"In this profession, you learn to take the good with the bad, but you always strive to make sure your good hits big and hits hard so that in the event that bad comes, it can go virtually unnoticed in your world of good." â–