Senior Editorial Supervisor, Edelman New York Age: 26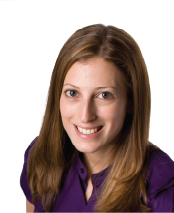 Clamored for by Edelman account teams and coveted by clients, Amanda Kaufman is a skilled PR practitioner with a gift for developing content in multiple formats. As the marketing strategy and communications, writing and quality-control point person for many of Edelman's Health teams, the N.Y.C.-based Kaufman keenly understands the issues, the regulatory environment and the ever-changing landscape stakeholder attitudes and behaviors. She applies this knowledge and an engaging writing style to a variety of health campaigns.
Juggling Act
"Working across all Edelman Health accounts can be challenging—to juggle so many different account teams, clients and health topics and bring top-quality work to each—but it never gets boring," she says.
Tasty Recipe
"I recently wrote a keynote speech for an R&D executive on R&D partnerships in Asia. The topic was completely new to me and the speaker was based in Asia so we didn't have many opportunities to talk and brainstorm together. Ultimately, based on multiple sources, we developed a recipe for success for strategic partnerships in Asia and crafted the speech around this recipe."
Perfect Prose
"It doesn't happen all the time, but I love when I draft something for a team and they tell me it was exactly what they were looking for, but couldn't put it into words." â–