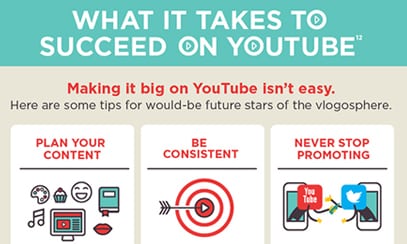 For many brands, YouTube is a checkbox. Unless a video is created as part of an online campaign, it's uploaded to YouTube and views are seen as bonus points. While this approach can fill a YouTube channel with content, it fails to put the content to work for your brand.
To stand out on YouTube, stop thinking of it as a video repository. Start thinking like the people who make their living from YouTube. This means finding an approach to producing video content on a regular basis, designing video to take advantage of YouTube features and building subscribers as you would build fans on Facebook or followers on Twitter.
Making video work for your brand on YouTube will be one of the topics covered at PR News' Video Workshop on June 1 in Miami. Ahead of the conference, take a look at the infographic below for some information on how top brands align with YouTube stars and tips for succeeding on the network courtesy of Syracuse University's Newhouse School of Communications.

Follow Brian Greene on Twitter: @bw_greene