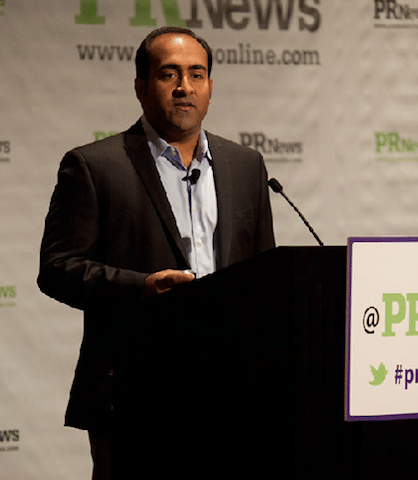 Measurement Conference keynote speaker Rohit Bhargava, senior VP of global strategy & planning at Ogilvy PR.
PR News' April 18 PR Measurement Conference—with nine full sessions, five measurement doctors who doled out measurement Rx's and the induction of six new members of PR News' Measurement Hall of Fame—was a daylong summit that brought together some of the best thinkers and doers in PR measurement (and we've got the photos to prove it). To keep the number theme going, we've compiled 10 measurement tips from the event:


Just get started, if you haven't already: 11.76% of respondents to PR News' pre-conference survey said they don't measure their PR programs. Ric Pratte, director of Meltwater Buzz, said you need to simply start somewhere with measurement. "Iteration is your friend—start small. What's my objective? Are my target audiences well defined?"

Set the right objectives based on your organization: "The best approach to proving value is setting the right kind of objectives," said Mark Weiner, CEO Americas, 
PRIME Research. "Your objective should never be 'to generate significant buzz.' It's too vague," said Weiner.

Have a strategy, don't exist in a bubble: "A lot of times our strategies look nice in the short term but don't last," said Rohit Bhargava, senior VP of global strategy & planning at Ogilvy PR and author of forthcoming book Likeonomics. "Aim toward visionary measurement—focus on the business impact of your work instead of just recording volume."

Think like a CFO: "Once you understand how your business makes money, you can then come up with good objectives," said Johna Burke, senior VP, BurrellesLuce. "Think in bullet points and in Excel, because that's the language of business and senior management," said Burke.

Understand the difference between media reach and media influence: Sonia LaFountain of CARMA International said the term "media reach" is being used more and more as a realistic assessment of audience impressions. "Influence is the ability of a journalist or blogger to shape opinions. Some people think that influence is subjective, but it can actually be objective," said LaFountain.

Embrace Google Analytics: Run and get "Sam's Teach Yourself Google Analytics in 10 Minutes" to help you set up goals and funnels. Google Analytics is not necessarily the newest or flashiest item on the block, but several speakers throughout the day said that it is still a (free) cornerstone for PR measurement.

Explore saved costs as well as earned revenue: Don Bartholomew, senior VP of digital and social media research at Ketchum, said PR pros can either generate revenue or save costs with social media. "Attempts to rename ROI with terms like ROE (return on engagement), etc., are counterproductive. It takes away from the more important issue of how should we use social media," said Bartholomew.

Understand the difference between impact and ROI. Impact changes awareness, opinions, attitudes, said Bartholomew. "It's process oriented—it happens over time. ROI is conversion. Impact can be both tangible and intangible. Impact is an investment that may be cashed in as ROI over time, and the ROI on ROI studies is not too great."

Move beyond followers: Danielle Brigida, social media manager at the National Wildlife Federation, said that from the perspective of senior management at her organization, they don't really care about how many followers or friends NWF has on social media. "Instead, pull larger views and create quarterly reports for senior management. Include trends and industry news in addition to the number of social followers—we have to combine both old and new metrics."

Show progress through research: The key to getting management buy-in for your communications initiatives is to show progress, said Larry Parnell, associate professor of strategic PR at George Washington University's Graduate School of Political Management. "It all comes down to research. Have targeted research methods and present your research to senior leaders in language they understand," said Parnell.

Follow Bill Miltenberg: @bmiltenberg

Register now for PR News' two-day Social Media Summit, to be held June 21-22 in New York City.