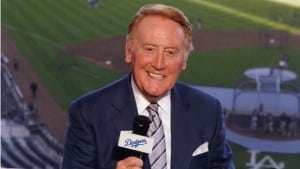 Last night, the Los Angeles Dodgers' Clayton Kershaw pitched a no-hitter. For non-baseball fans, that means the pitcher recorded 27 outs without allowing opposing batters a hit.
This was remarkable, because no-hitters are rare. It was more remarkable because it was the second one by the Dodgers this year—Josh Beckett pitched one last month. Prior to that, you'd have to go back to 1996 for the last Dodger no hitter.
Kershaw's no-hitter was more remarkable still because of the man who called the game—Dodgers announcer Vin Scully, the 86-year-old broadcaster extraordinaire who's been the Dodgers' announcer since 1950, when the team was based in Brooklyn. Scully isn't just someone who's been a baseball announcer for 64 years and counting. He's a baseball legend, a national icon, who is unrivaled in his ability to convey thoughts and emotions and information in ways that engage and move his audience. In short, he's one of the greatest communicators who ever lived. In that spirit, on the occasion of the 19th no-hitter he's announced (the first was in 1952) we collected a few of his best quotes.
Statistics are used much like a drunk uses a lamp post: for support, not illumination.
Losing feels worse than winning feels good.
Good is not good when better is expected.
I love the challenge of describing things.
He (Bob Gibson) pitches as though he's double-parked.
Sometimes it seems like he's (Bobby Bonilla) playing underwater.
He's (Tom Glavine) like a tailor; a little off here, a little off there & you're done. Take a seat.
Andre Dawson is listed as day-to-day (pause). Aren't we all?
The Dodgers are such a .500 team that if there was a way to split a three-game series, they'd find it.
It's a mere moment in a man's life between the All-Star Game and an Old-Timer's Game.
Here's a synopsized take on Scully's call from Kershaw's no-hitter.
And here's the great Sandy Koufax describing Scully: "It may sound corny, but, I enjoyed listening to Vin call a game almost more than playing in them. He's been a special broadcaster for a lot of years and he's been wonderful to listen to for a lot of years. He definitely is the All-Century broadcaster as far as I'm concerned."