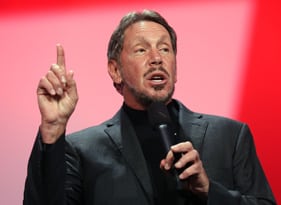 The retirement of Larry Ellison as CEO of Oracle is being referred to as the end of an era. Along with fellow trailblazers Bill Gates, Steve Jobs, Andy Grove and others, Ellison re-created the technology industry, opening up countless possibilities for the current generation's tech leaders like Sergey Brin, Larry Page, Mark Zuckerberg and Jack Dorsey.
Calling Ellison's stepping down as CEO a "retirement" may be a bit of an exaggeration, though. He will not be riding off into the sunset anytime soon. Ellison will remain executive chairman and chief technology officer. Considering the flamboyant tech billionaire is the only person to ever run the company since he founded it in 1977, these are not token titles.
Just the same, this is a good moment to take a look at some of Ellison's more memorable quotes, because they not only offer some insight into his mindset, but they can inspire communicators as well.
"When you innovate, you've got to be prepared for everyone telling you you're nuts."
"The only way to get ahead is to find errors in conventional wisdom."
"I believe people have to follow their dreams—I did."
"I have had all the disadvantages required for success."
"Be careful about virtual relationships with artificially intelligent pieces of software."
"To model yourself after Steve Jobs is like, 'I'd like to paint like Picasso, what should I do? Should I use more red?'"
"Taking care of your employees is extremely important and very, very visible."
"Referring to [Bill] Gates as the smartest man in America isn't right. I'm not the fourth-smartest man in America. Wealth isn't the same thing as intelligence."
"I enjoy the competition and the process of learning as we compete."
"I'm addicted to winning. The more you win, the more you want to win."
Follow Richard Brownell: @RickBrownell